Últimas adquisiciones - Febrero de 2018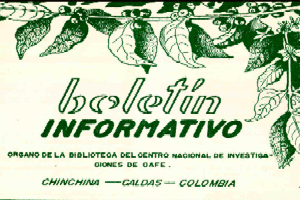 * LIBROS Y FOLLETOS

333.95316 - C17. CASTELLANOS C., C.; SOFRONY E., C.; HIGUERA D., D. Plan de acción de la estrategia nacional para la conservación de plantas en Colombia. Bogotá : Instituto de investigación de recursos biológicos Alexander von Humboldt, 2017. 84 p.
** ARTICULOS DE REVISTAS

DALAGNOL, R.; BORMA, L. de S.; MATEUS, P.; RODRIGUEZ, D.A. Assessment of climate change impacts on water resources of the Purus basin in the southwestern Amazon. Acta amazonica 47(3):213-225. 2017.
ORTMANS, W.; MAHY, G.; MONTY, A. Northern range edge equilibrium of Ambrosia artemisiifolia L. not achieved in western Europe. Biotechnologie agronomie societe et environnement 21(1):12-21. 2017.
SILVA, J.A. DA; DONATO, S.L.R.; DONATO, P.E.R.; RODRIGUES, M.G.V. Cultivares e manejo de palma forrageira. Informe agropecuario 38(296):34-45. 2017.

COMBATT C., E.M.; PALACIO B., D.; PALENCIA L., M. Organic acids to eliminate interference by phosphorus in the analysis of silicon by molecular absorption. Revista facultad nacional de agronomía Medellín 70(2):8183-8189. 2017.
TREBILCOCK, P. The quest for on the go soil sensors. New AG international 2(June/July):44-47. 2017.
NEW SMART thinking new brilliant tools : Water saving and fertigation technologies. New AG international 2(June/July):48-50; 52;54. 2017.
FOLIAR FERTILIZATION enters a new era. New AG international 2(June/July):64-65. 2017.
FONSECA F., F. Zidres como aporte al desarrollo rural integral. Revista nacional de agricultura 973:14-17. 2017.
FRANCO V., L.A.; BARRIOS T., C.E.; VALDEZ B., A.L. Manejo de la chinche de encaje con aspersiones del hongo Purpureocillium lilacinum. Palmicultor 546:22-25. 2017.
Ir a ver Tablas de Contenidos



Centro Nacional de Investigaciones de Café - Cenicafé
Sede Planalto, km. 4 vía Chinchiná-Manizales. Manizales (Caldas) - Colombia, Tel.: PBX +57(6)8506551 o +57(6)8506636, Fax +57(6)8504723, A.A. 2427 Manizales

Políticas
Requerimientos
Equipo de Desarrollo