Our publications /

Cenicafe Journal

in construction Aims to disseminate among the international scientific community, the Extension Service of the National Federation of Coffee Growers, the particular technical assistants, research results Cenicafé, as printed scientific articles.
Cenicafe´s Journal Vol 71 No. 1 of 2020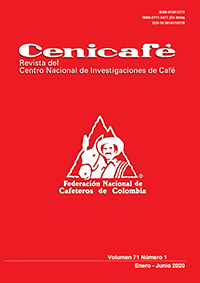 - Corrección de la acidez del suelo: Alteraciones químicas del suelo.
- Corrección de la acidez del suelo: Efectos en el crecimiento inicial del café.
- Estudio de los factores limitantes para la obtención de plantas haploides de Coffea arabica.
- La fertilización mineral como complemento a la fertilización con abono orgánico en el cultivo del café.
- Producción de café en respuesta al fraccionamiento de la fertilización.
- Resistencia genética a la Enfermedad de la Cereza del Café en variedades cultivadas en Colombia. 



Centro Nacional de Investigaciones de Café - Cenicafé
Sede Planalto, km. 4 vía Chinchiná-Manizales. Manizales (Caldas) - Colombia, Tel.: PBX +57(6)850 0707, Código postal: 170009; A.A. 2427 Manizales

Políticas
Requerimientos
Equipo de Desarrollo