Our publications /

Cenicafe Journal

in construction Aims to disseminate among the international scientific community, the Extension Service of the National Federation of Coffee Growers, the particular technical assistants, research results Cenicafé, as printed scientific articles.
Cenicafe´s Journal Vol 62 No. 2 of 2011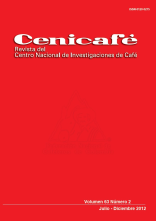 In order to better understand farmers' perceptions about the adoption of the Rainforest Alliance certification (RA) in 2009, 72 semi-structured interviews were administered to certified coffee growers with RA stamp in Cundinamarca and Santander. The survey and the interaction with the farmers addressed social and environmental aspects as well as the producers' perception of the certification. It also included some basic elements of the contingent valuation method of environmental goods and services, with the purpose of understanding the farmers' willingness to pay to maintain or retain the certification. The results indicate that the farmers were already meeting several requirements set by the Sustainable Agriculture Standard (NAS) of the RA before being certified. Such requirements are, for instance, good payment terms and fair treatment of workers in the farms, engagement in soil conservation, and updated accounting and farm work records. Farmers consider that avoiding certification and environmental penalties, reducing water pollution and achieving protection of habitats and ecosystems are advantages. Regarding the willingness to pay to preserve certification, 44.2 % of the farmers expressed their agreement with values between $1,333 and $263,158 per hectare per year. The general perception of the certified farmers regarding the benefits of certification is positive from the social and environmental issues, but they expressed dissatisfaction with the economic results derived from such certification.
Author(s):
CENICAFÉ
Year:
2012



Centro Nacional de Investigaciones de Café - Cenicafé
Sede Planalto, km. 4 vía Chinchiná-Manizales. Manizales (Caldas) - Colombia, Tel.: PBX +57(6)850 0707, Código postal: 170009; A.A. 2427 Manizales

Políticas
Requerimientos
Equipo de Desarrollo